Keynote speaker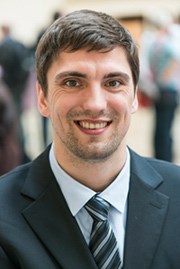 Dr. Martin Brenncke
Dr. Martin Brenncke joined Aston Law in August 2017. Before, he was a Career Development Fellow in German and European Union Law at the Institute of European and Comparative Law at the University of Oxford, and an Lecturer at the University of Zurich.  He holds degrees from the University of Rostock, Germany, the University of Cambridge and the University of Zurich. His doctoral thesis "The regulation and supervision of advertising in financial market law", published as a monograph in 2013, received several prestigious awards in Switzerland and Germany. 
Dr. Brenncke´s research interests are in financial services law, EU law, statutory interpretation and comparative law. He teaches postgraduate module: Law of Banking, Securities & Financial Regulation.
Dr. Brenncke will deliver a keynote speech titled: "The limits of judicial power in England and Germany: a comparative methodological and constitutional perspective".
The regulation and supervision of advertising in Financial Market Law (monograph), Schulthess Verlag Zurich, Switzerland & Nomos Verlag Baden-Baden, Germany, 2013 
The legal framework for financial advertising: curbing behavioural exploitation, European Business Organization Law Review (EBOR) (in press, forthcoming) 
Hybrid methodology for the EU principle of consistent interpretation, Statute Law Review 2017 (in press, forthcoming) 
Europeanisation of methodology of the EU legal duty of conforming interpretation, in: 50(4) Europarecht 2015, pp. 440 – 460 
The target market of a financial instrument under MiFID II, in: 69 Zeitschrift für Wirtschafts- und Bankrecht (Wertpapier-Mitteilungen, WM) 2015, pp. 1173 – 1181