International Institute of Social and Economic Sciences organized the 6th International Academic Conference which was held in June 23-26, 2013 in Bergen, Norway, at Radisson Blu Hotel Norge.
Award has been conferred by the Program Committee to the author of the best paper presented at the conference.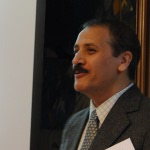 Professor Jalil Safaei from the University of Northern British Columbia, Canada, had a keynote speech about socioeconomic determinants of health, healthcare services and policy evaluations. After the conference, there was the bus trip for conference participants to Steinsdals Waterfall and Hardangerfjord.